Saturday, October 2nd: Eureka, NV to Redondo Beach CA.
Last night at dinner we decided as a group to leave an hour early. This was because we wanted to get the jump on the local constabulary who were said to be ready and waiting for us in the bushes outside of town shortly after our scheduled leave time of 7am. After a quick breakfast we left town in the pre-dawn light and headed first west on US 50, then south down the Big Smoky Valley on Highway 376. We were delivered yet another gorgeous sunrise. The roads were empty and fast but we were limping a bit and kept it under 90 and in 4th gear. The clutch was all but gone and the vibration we noticed beginning in Nebraska was now a roar anytime in 5th gear.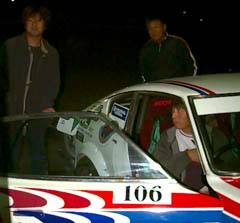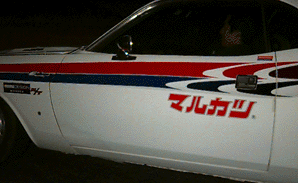 Above: Leaving Eureka... Steve Loudin's Plate. Gassing up The Fairlady. The Challenger from Tokyo.
We make good time anyway, as the roads are all but empty.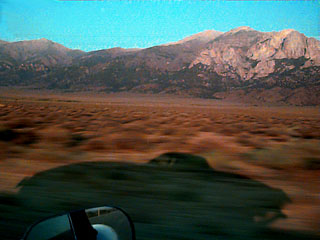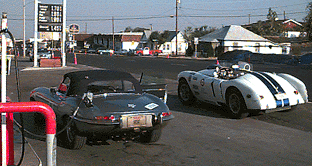 Nevada.
Above Left: Mountains and the shadow of a cat. Above Right: Buying some catfood in Tonopah with the Cunningham C4R.
Below Left: "Curves, we don't need no stinkin' curves!" Below: Right: The Mercedes 280.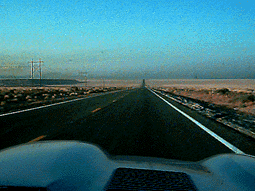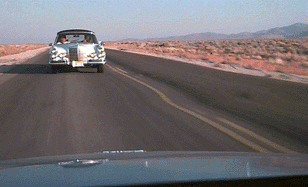 Left: Twisty canyon approaching the California border.
Just east of the California border, we roll up to a group of event participants to find our old friend Jim Van Gusten has rolled his beloved DeTomaso Mangusta. It seems his right rear tire de-treaded on him and threw him and the car into the ditch. Jim is all right... shaken and I'm sure despondent over the state of his car, but at least he his unhurt except for a small cut and a stiff neck. The Nevada Highway Patrolman announces: "If he were going any faster than 60 kmph, he'd probably been dead." Jim is a survivor.

We head into California and down the eastern Sierra towards the Mojave Desert. We follow the Ferrari of Sherman and Scott Wolf, hoping that we might get a clue to a good lunch spot since Scott is a "local" (lives in LA, skis at Mammoth) and probably knows the good spots. Unfortunately they out-run us as dad is in no mood to drive faster than about 80mph. The car is doing okay and we stop for lunch in a tiny town called Inyokern. We hit the road again in about 25 minutes and are doing real good. It is real hot outside and our primary worry at this point is avoiding a sunburn, when somewhere between Johannesburg and Edwards Air Force base the Jag's entire electrical system goes wonky. Our first indication is the radar detector making a really weird sound then going dead. I fiddle with it a while and declare it non-functional. Dad is driving and he notices all the gauges registering odd things.
Left: 150mph! Yeah right!
We figure it wasn't the radar detector, but the electrical system. We know that we will need to top up the fuel tank before we can make Redondo, so we figure we'll stop at Four Corners and fill up. Dad wonders out loud if it is OK to fill a car with gas without turning off the engine, to which I reply "sure! I don't think we have a choice."
We pull into a Shell station and dad says... "I'm going to turn it off" I say "I don't think..."and it is off. I fill it and wash the windshield while he goes to pay. I take a leak (Trust me this is not a good car to ride in with a full bladder... I think we fell into the 2 hour driving shift thing because of the need to "run on empty" ... if you know what I mean. Sorry Mom, I know you don't want me saying things like this in public... but hey, that's the truth!) and when I return dad has discovered (surprise!) that the car will not start. I hate being right sometimes.
I head over to a shady spot near the road, hoping to flag down one of the other two E-Types, especially the red one from California as I suspect they may have a spare alternator. The alternator is the single remaining Lucas Electric (aka, "The Prince Of Darkness") part in the car, and of course it is dead. We know we can run on the battery, but have doubts that it will carry us all the way to Redondo Beach. As I am still looking for another jag, the ferrari-driving Canadians pull up and are chatting with my dad. Apparently they have a fully charged battery with them and offer to loan it to us should ours die. Dad takes them up on the offer and they push-start the jag. Dad pulls up, tells me about the battery deal and we are off. About 5 minutes later the canucks pull away and leave us behind. I guess I'll have to take back every nice word I've ever said about Canadians, as these guys were obviously wankers. Needless to say our battery gives out about 10 minutes later and the car dies a wheezing death in the Middle of Frickkin Nowhere of the Mojave Desert.
Shit. 116 miles from the finish and we are dead.
Left: Our final resting place somewhere between Four Corners and Adelante. Our shade is provided by a lone power pole and our ambiance lended by blowing dust from a dry lake bed to the west.
We sit in the lone strip of shade provided by an electrical power pole and contemplate our situation. Should we try and buy a new battery? Should we get a tow to a town and try to repair the car? Should we get a tow to Redondo? We try for a long time to call the event mechanics with no success. (It turns out later that their truck's transmission died
in Tonopah, Nevada.) Finally, at Martin Swig's
suggestion (he pulled over for a short stop in the
1950 caddy) we call a tow. By dumb luck we get the right rig.

Above Left: The cat cooks in the Mojave Sun.
Above Right: Even that gawdawful "Phuse+ Activator" swill became palatable after a few hours in the Mojave!
Left: The Flatbed arrives to give the cat a piggyback ride to Redondo.
Below: Easy as 1, 2, 3!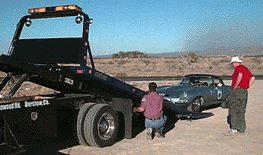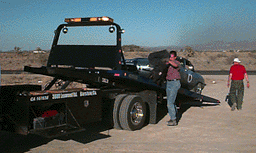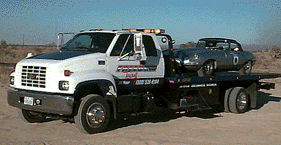 It is a beauty... a big flatbed, perfect for the task. After haggling a bit, we decide to carry the Jag all the way into Redondo Beach. That way we will at least arrive in time for the celebration dinner. The tow driver is a nice guy, a former cop named Mark Boyd. Mark got run over by a cruiser while chasing a suspect on foot, so he was out of the law enforcement business.
He hauls us into Redondo and we get to watch a rocket launch over LA from Vandenburg AFB. I don't manage to get a good photo of it with my crappy camera, sorry... But it is spectacular. All I can figure is that either it is just a satellite going up or the world as we know it will end by midnight. It turns out to be neither, instead it is a test of some new "star wars" technology.
Mom is waiting for us at the Portofino Hotel in Redondo. Unfortunately it is dark so we have no pics of us crossing the pier in the truck with the jag on the back.


Above: Pics from the awards ceremony.
Dinner is cool, though I am still in my sweaty gritty clothes I've been wearing all day. The awards ceremony is sort of anti-climactic. So afterwards I say good-bye to my folks, shower and head for the bar, hoping to find the limey auto journalists to get my promised business card (I want my buddies in the UK to send me a few copies of the magazine when the issue comes out... "Car & Classic Car" is the mag name I think... somebody correct me if I'm wrong!) The Brits aren't there (well, *one* is but he is busy with Mr. Swig and he's the one that doesn't have a card on him anyway). I had assumed the Brits would be found where the beer was...but was proven wrong... go figure! Anyway, Wes McNay was there so I had a beer with him and his wife. I'll try and make it to S.I.R. when the vintage races come through town in July and say hello. I head to the room, pack my bags, make one more run down to the Jag to drop off a few parts I had in my pocket, arrange a cab to LAX in the morning and head off to bed.
Roadkill Tally for Saturday: (You will know we are in the West by this count!) 14 Jackrabbits, 1 DeTomaso Mangusta, 1 Snake, 2 Coyotes, 1 Roadrunner, 9 indistinguishable piles, and 1 Gila Monster.
And of course: 1 silver-blue 1965 Jaguar XK-E 4.2.
---
I have to thank some folks:
First of all my wife Sue and two sons Christopher & Nicholas. They patiently allow me to go off on these adventures.
Of course thanks to Brock Yates, Martin Swig, and Pam Yates for their organization of this event.
Thanks to Carol Goolsbee, my mother for hauling my bag with jacket & tie coast to coast, as well as moral support throughout.
Thanks also to the folks that leant a mechanical hand along the way:
The Markowski's at RPM in Vermont.
Evan & Jule Silvi. Evan for the repairs and both for the delivery into NYC.
Brock Yates Jr. & Barry Brown, the official mechanics of the event.
Charlie Key of British Cars of America in St. Louis.
...and of course Mark Boyd of Freedom Towing in Barstow California, without whom we'd have never finished!
The jag is heading back to Dan Mooney at Classic Jaguar for a resurrection in time for the Texas 1000.
Most important: Thanks to Charles Goolsbee, my father for having me along! Thanks Dad.
--chuck
Left: Back in Seattle again! Ironically my flight was delayed for 2 hours at LAX while they replaced a part in our 737. Boeing doesn't use Lucas Electrics do they?