The event starts in New York, so I hopped a series of redeye flights out of Seattle, to Newark, via Las Vegas, and Columbus, Ohio... yuck. I bus and cab my way into Manhattan, find my Mom, get a shower, some food, a nap, and check in for the event at the Plaza Hotel. I meet the event organizers, Martin Swig and Brock Yates, but am frankly way too jetlagged/exhausted to even register an impression. I head to my room and sleep some more, check my email (Woo Hoo, full-strength Ricochet signal!) and start writing this document. I have dead batteries in the camera, so we'll be pic-less until I get some.
Sat. Sept 25: I still haven't seen my Dad yet. He is off at Evan & Jule Silvi's doing last minute work on the car. The Jag was left with my sister and brother in law near Boston after we finished the NE1000. Dad brought it out to Vermont for a pre-Cannonball check-up at the Markowski's shop in Vergennes. They did some work on the clutch, and the rear end. The car, due to being British for one, and being extensively modified (to excorsize some of that Britishness *out* of it!) for another has a lot of idiosyncrasies. I imagine the Markowskis lost a few years off their lives dealing with it. I'm sure the car's real "father"... Dan Mooney down in Texas lost some sleep too. Anyway, somehow in the process of putting it all back together the emergency brake remained unconnected, so Dad and Evan are fixing it (I hope.) I'm willing to bet that Evan is doing the work, which makes me feel a little better! =)
I've got to climb into a jacket & tie for dinner at th 21 Club, so I'll leave the page like this until tomorrow. See you then!
I'm jumping a bit ahead here, but I'll add the pictures taken at the Louis Vuitton Concourse I visited the next day at Rockefeller Center: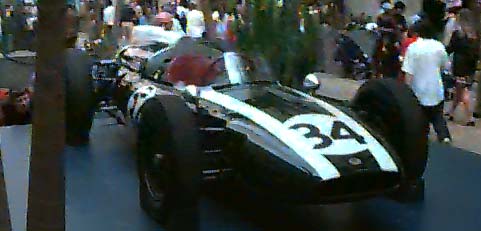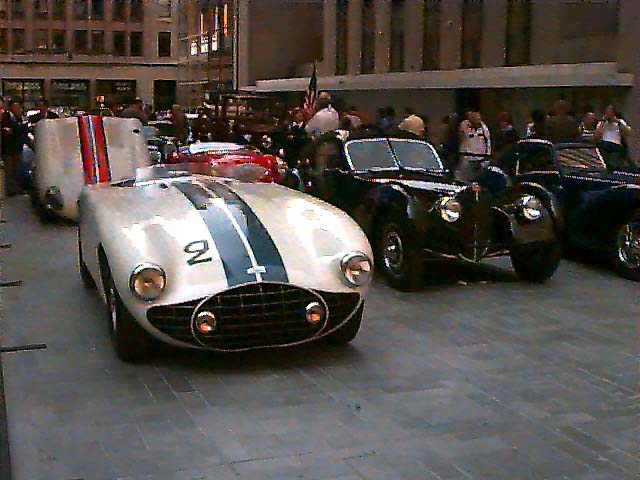 Left: A Cooper Climax. Below: A Cunningham, a couple of Bugatti's and a Jaguar Lightweight E-Type in back.
Below: A Ferrari, A Hudson Hornet Hemi, and a Lotus.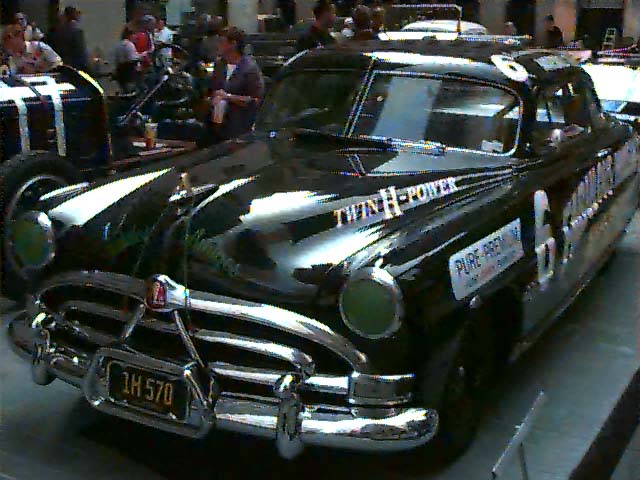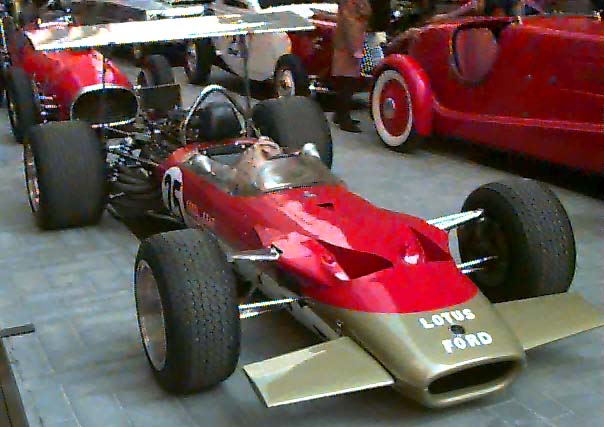 Yes, I think this is *the* Mini Cooper.
--chuck
---
Go to the next page: Sun. Sept 26: NYC to Scranton PA.
or...