Day Three of the 2004 Mille Autunno, out of the Sierra, Lodi, and San Francisco
Dad and I get up and eat breakfast at a Denny's next to the hotel. We were told to not be in too much of a rush to arrive at our destination. I think we were the second to last car to leave the hotel.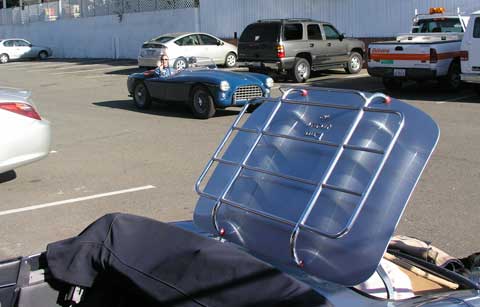 The AC Ace Bristol leaves the hotel as we play Tetris with our bags in the Jag trunk.
We gas up the car and head east towards the central valley. The route takes us down a long ridge by a couple of large lakes. The roaad is quite enjoyable. I grabbed the camera and tried to give you a driver's eye view: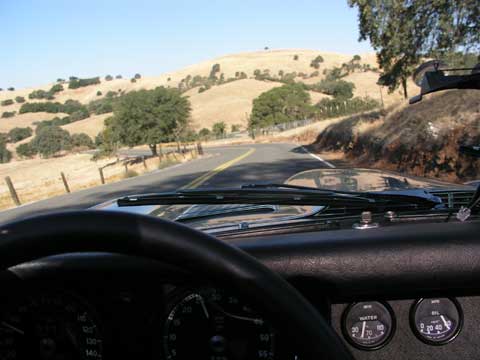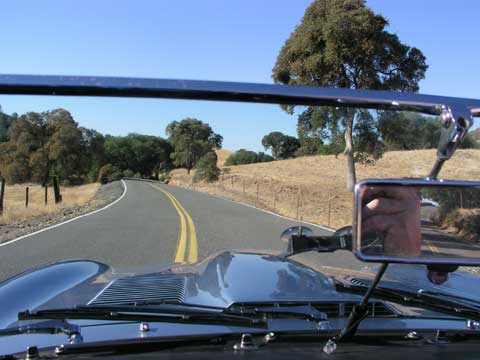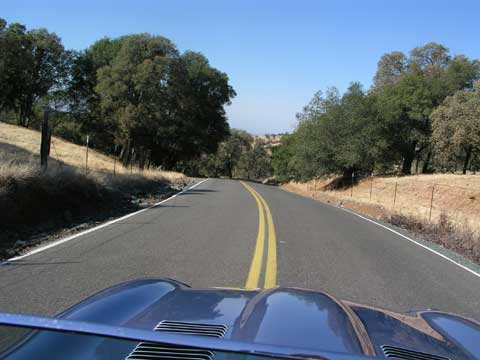 The fun ends all too soon, as we arrive in the flats. We follow some long straights through several vinyards and orchards. We find our way to the final stop. Last night we were told to prepare for something unusual. When we arrived, we parked and took some photos.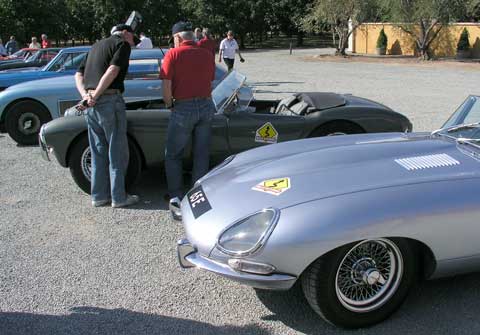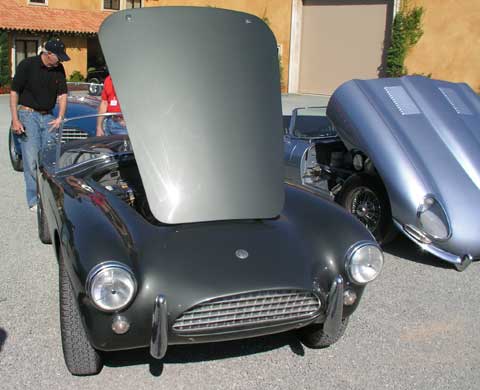 Next I asked Mr. Cole if I could photograph the engine compartment of the Aston-Martin DB2. He gladly obliged: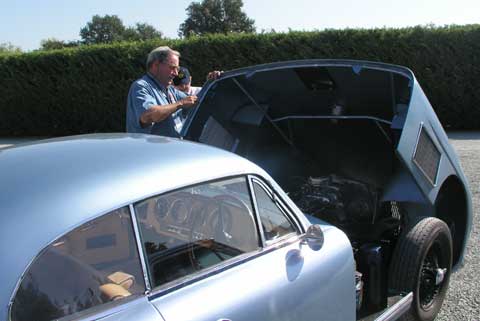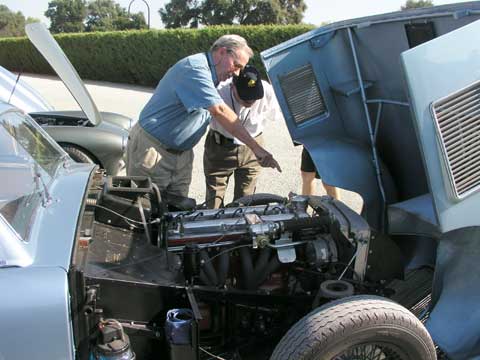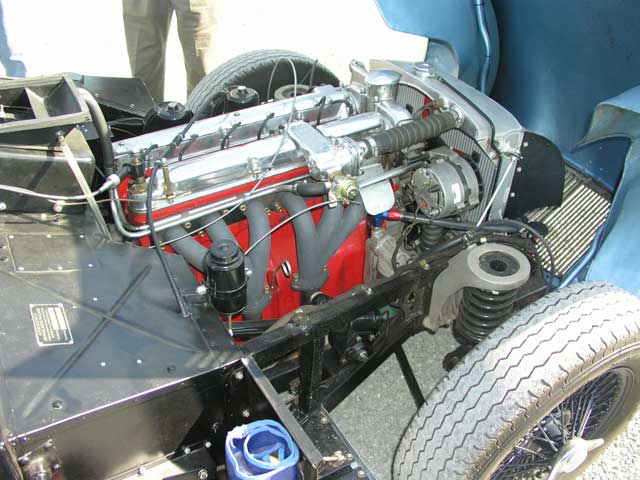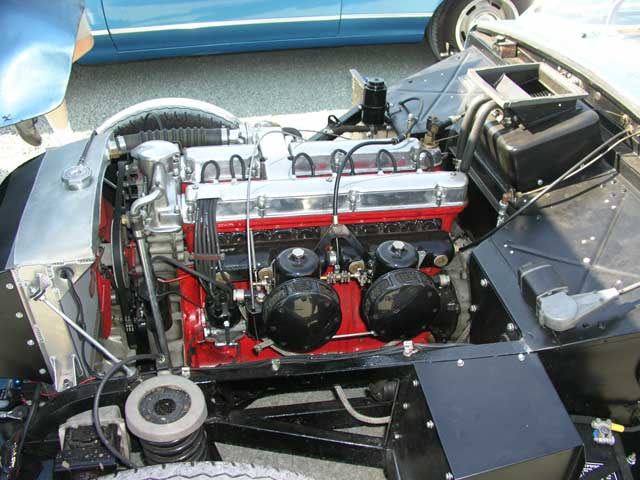 Wow. I like it. Very much like the E-type, with a tube frame and a dual overhead cam straight six engine.
Once we were all gathered, our host brought us around back and into a large building. What awaited us there was... unexpected. This guy restores old scale trains... and not the tabletop ones! Remember the little trains that ran around zoos? Those scale trains. He has a small scale railyard and track around his property out in the central valley orchards. We boarded one of the trains, and took a circuit around the track, stopped out by a house under construction, and were fed a catered lunch on a terrace.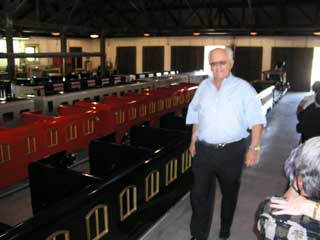 Above: Our host checks the passengers before leaving the station.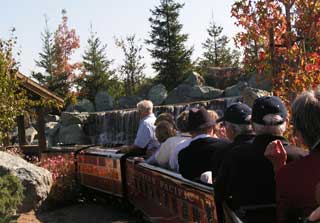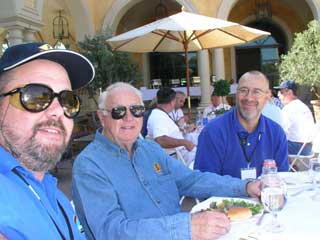 After lunch, we re-boarded and rode around the circuit once again (actually twice) and took a quick look around his workshop.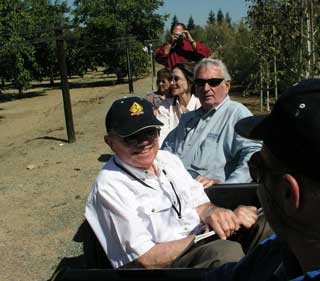 Above: backing into the workshop/yard.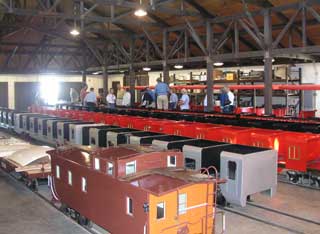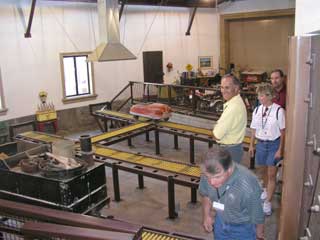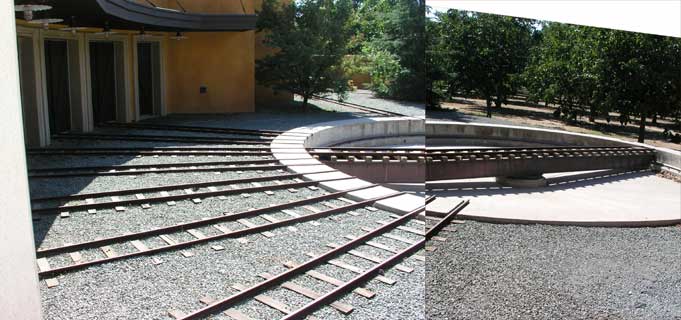 Above: sorry for the bad stitch.
It lived up to the "unusual" bit. I don't share the man's passion for trains, but hey, everybody needs a hobby. =)
Dad and I hopped in the E-type and headed west as fast as we could. Dad had to catch a flight out of SFO at 5 pm. We made good time at first, but when we arrived in Berkeley the traffic was awful. It turned out there was a football game at Candlestick Park so traffic across the Bay Bridge was thick and slow. We crawled along very slowly... which was frustrating, but there is really nothing you can do about it. My Dad handled it well. 10 years ago it would have had him stressing toward a coronary, but retirement has done him well... he now has patience and a healthy "c'est la vie" attitude. We found somebody else who didn't take it too well. I was poking along at 5 or 10 mph when in my rearview I see this BMW cross two lanes of traffic - from the one on my left, through mine, around two cars, then back into my lane, and hard onto his brakes RIGHT behind me! Needless to say, this fightened me a bit. This asshole proceeded to switch lanes and binary-drive (full throttle-full brake) all the way across the Bay Bridge. Of course, traffic overall was just poking along at 10 MPH, so this guy just never really made any forward progress. I saw him change lanes about 35 times across the bridge, and pass us one minute, and fall behid the next. Insane. I finally stuck my camera at him as we passed him on the left, so here he is: The Biggest Asshole I Have Ever Seen Driving.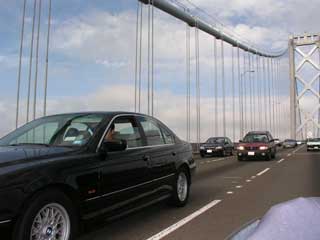 It was a BMW with New York plates. I bet his wife/girlfriend was terminally embarrassed by his behavior.
We finally make it all the way to SFO, about an hour before my Dad's flight. Thankfully he has carry-on luggage only and really just has to get through security. I wish him farewell and thanks for the fun trip. I also tell him to call me should he miss the flight.
---
It was now 4 pm, and I was suposed to meet a fellow jaguar enthusiast, Jerry Mouton, at a Park & Ride lot off of I-280 at 4 pm. Thankfully I-280 is one of those "autobahn" Interstates where everyone drives fast. I made near record time, going from SFO to the Page Mill Road P&R in about 15 minutes. (I'm sure somebody has done it in far less time, but I felt good for not being too late.) Jerry was waiting there in his cream colored Series 1 Fixed Head Coupe. We briefly chatted and then took off towards the Santa Cruz mountains to the home of another E-type lover's house. I'm pretty sure Jerry picked this particular meeting place because of it's simplicity, being right off the freeway, but mostly due to it's proximity to this particular road. It is obvious that Jerry had driven this road a zillion times, because he delivered a master's class in following the line and taking each corner at the right speed. It required all my concentration to stay glued to his tail, but boy, was it FUN! I'm glad I left my Dad at the airport because he would have been freaked sitting in the passenger seat. I have little recollection of how long a drive it was, but it reminded me of reading a quote from a Jaguar team factory driver about Le Mans in the D-type... how he would relax on the Muslanne straight going 170 MPH, because going straight didn't require thinking as much. Speed isn't the issue. =)
Of course, I didn't have much of a chance to capture any of this, but I did manage to snap one photo while on a straight.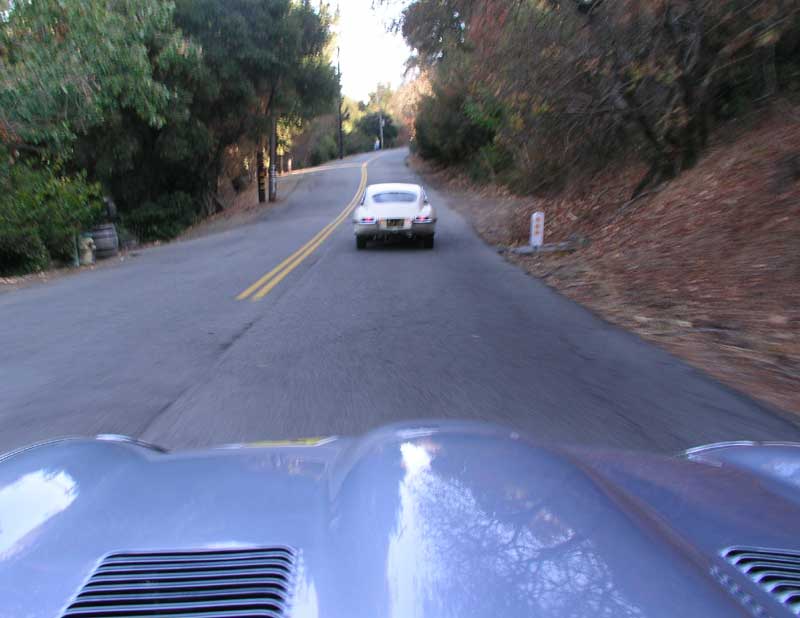 Above: Following Jerry Mouton's FHC up the wild, twisty road. Note: the motion blur is NOT from a Photoshop filter!
We stopped at one parking lot along the way, which Jerry pointed out to me was sitting right next to the San Andreas Fault. The proximity to a tectonic boundary didn't frighten me... after all I live in the shadow of four major volcanoes, one of which was currently active. Slumbering fissures? bah. I did however grab a couple more photos before the second half of Mr. Toad's Wild Ride was reenacted.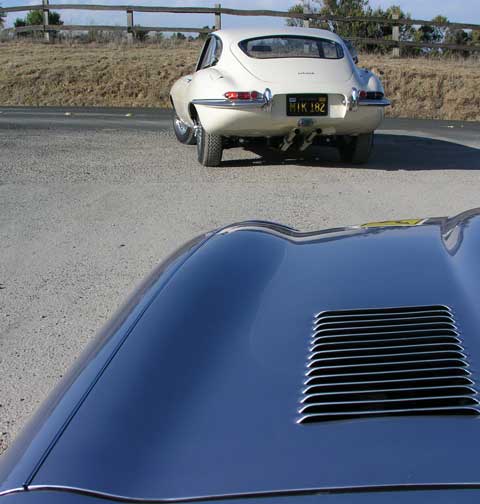 The above view, of Jerry's license plate, is basically what I had for the next 30 minutes, maybe an hour... who knows... I lost all track of time. It just was all throttle and clutch, and a whole bunch of steering wheel... all the while fixated on that one spot: MIK 182. All second and third gear, with a rare jump to fourth, blissfully traffic-free (we passed just one car), up, down, left, right.... not at the edge of the E-type's performance envelope (I rarely heard tires squealing too loudly) but right inside of it for sure. Hard left, hard right. Much faster than I would have done on the same road, but I felt completely at ease following Jerry, who knew these curves like the back of his hand. The growl of two XK's being "driven in anger." Hopefully someday I can return the favor for Jerry down Jordan Road, or up to Lake Cavanaugh and through the Pilchuck Tree Farm. Wow, what a blast. This is what E-type's were made for. Thanks Jerry!
We arrived at Ray's just in time, because my brain needed a break after the "track time." Ray is recuperating from a recent medical trauma so was hobbling about on crutches. He was assisting another Jag enthusiast's (Jeff Chew's) convertible top replacement. I brought my car up to the Garage/workshop to let him get a look-over. After Jeff's job reached a stopping point, we all piled into cars and headed off to dinner. I gave Jeff a ride, while Ray and his wife rode in a VW sedan. Jerry followed in his FHC. The place we had dinner is rather unique, as apparently the dining room had a creek running through it as a result of an earthquake. Another Bay Area participant in the E-type mailing list, Allan Jones joined us. Dinner was great, and lots of stories were exchanged.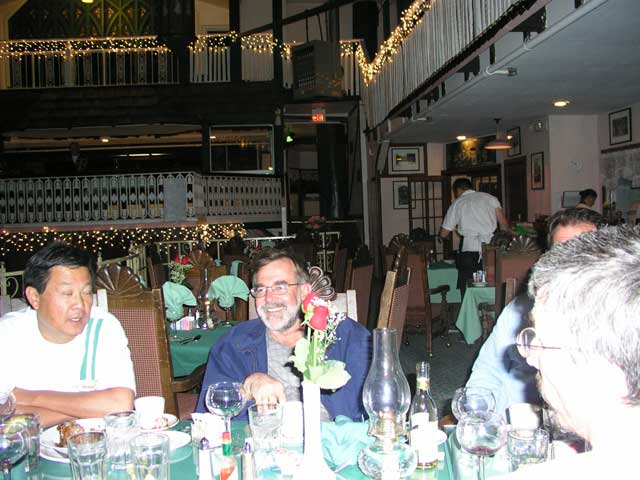 Above, L-R: Jeff Chew, Jerry Mouton, Ray Livingston.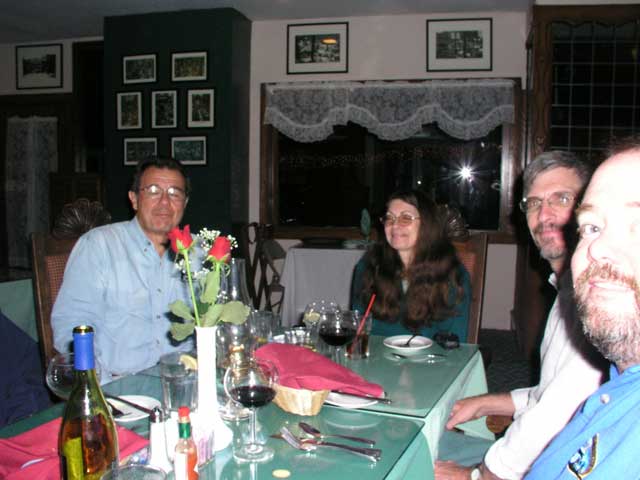 Above, L-R: Allan Jones, Peggy and Ray Livingston, me.
When it came time to pay the bill Jerry made a grave mathematical error, leading to his collecting more money from everyone than required. I was ready to pay my share with a credit card, but as he already had enough cash, the group decided to buy me dinner as their out-of-town guest. Thanks!
We bid Ray, Peggy and Jeff good-bye, and Allan, Jerry and I made a little E-type caravan back to Silicon Valley from Santa Cruz. It was after dark, and I don't like driving the Jaguar at night, but I felt OK between the two of them. We decided that I would follow Allan to Los Gatos where he had a hotel to recommend for me. As we started up highway 17, I noted a sign saying "last gasoline for X miles"... checking my gauge I noted it was rather low. Wonderful. All that driving to the airport in traffic and wild ride with Jerry had depleted my tank. I feared running out of gas on the twisty, congested road, and did my best to stay in the right lane, but Allan of course had no idea of the state of my gasoline reserves, plunged ahead. I coasted when i could, hoping to make it without incident. Thankfully the first Los Gatos exit arrived before my tank ran dry, and the hotel was very close. I checked in, thanked Allan, hit my room and crashed. It had been a long day.
---
The rest of the trip.