"In high-rise city canyons dwell the discontent of ages.
On ring roads, nose to bumper crawl,
commuters in their cages. Cryptic signals flash across
from pilots in the fast lane.
Double-locked and belted in - too late to make - the clasp.

Let's break a journey now on some lonely road.
Sit down as strangers will, let the stress unload.
Talk in confidential terms, share a dark unspoken fear,
Refill the cup and drink it up.
Say goodnight and wish good luck."

--'The Clasp' - Jethro Tull, from 'The Broadsword and The Beast' 1982
---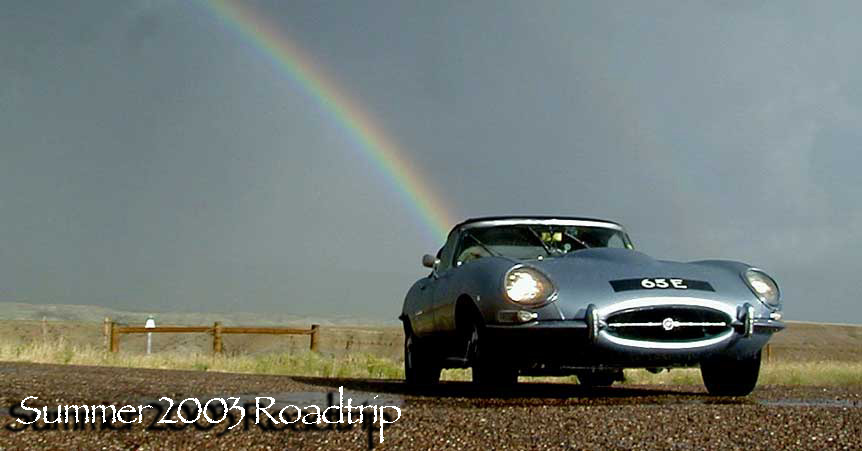 I let Nick sleep until 6:45 or so. In the mean time I had finished the report for the day before and prepared it for upload. I also got us mostly packed and had a nice shower. It was one of those hard water firehose kind of showers that blast you against the opposite wall... I felt like Charlton Heston (E-Type owner!) in "Planet of the Apes." Except I enjoyed it.
I then went out and prepped the car for the day. It spent the night parked at the far end of the hotel lot, next to a rotting Fiat of slightly younger vintage. It was an odd sight in the lot filled with Pickups and SUVs!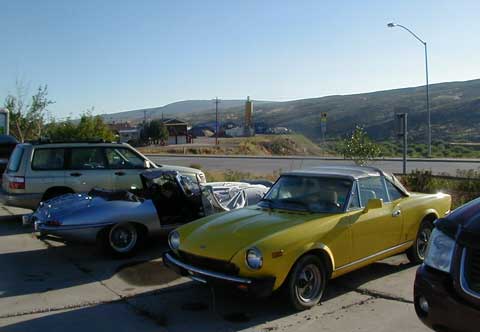 Nicholas got himself prepared for the day and we headed out for breakfast at Kremmerer's "Busy Bee Cafe"... Nick demolished a gigantic proportion of French Toast, as well as most of my hashbrown potatoes.
We did a lap around the town's "square" which is really a triangle, and got ourselves sorted navigation-wise. This town by the way, is where JCPenney got it's start, though it seems they relocated to Salt lake City, and then NYC as soon as possible. The "mother store" still stands in Kemmerer.
Heading west on US 30, we were again in the dull rolling sage country that makes up so much of Wyoming. Nicholas passed the time with his GameBoy, I spent the time in a futile search for Pronghorn Antelope. I wanted to show them to Nicholas, as I recall it was the way *I* passed the time crossing Wyoming... (in the days prior to handheld consumer electronics!) looking out the window of my Mom's Buick, searching for antelope. I remember the sage country being covered with them, yet in the hours we drove this time I didn't see a single one. Maybe I passed a hundred of them and didn't see them... they are hard to glimpse among the sage. Of course, we were travelling different roads, so maybe they are all still running beside US 191 and 287 in central Wyoming, not US 30 in the far SW corner of the state.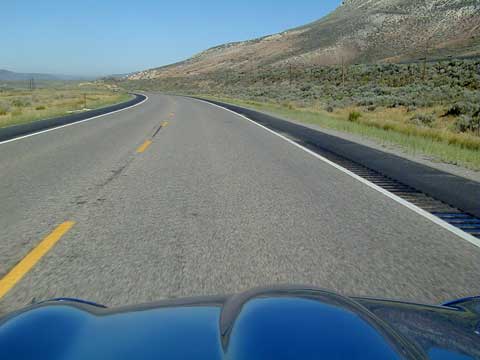 At the Idaho border we swing north, tracing the boundary between the states.
A little further north we pick up US 89, a road I have never travelled. What I discovered was a complete surprise.
The Star Valley sits just inside Wyoming, and is a true jewel. I thought I had seen all Wyoming has to offer, having travelled almost everywhere in the state, including extensive backpacking and climbing trips in the Wind River Range and Yellowstone National Park. Other than the NW corner (Yellowstone, Teton, Jackson area) and the spine of Wyoming, the Wind River Range, Wyoming is mostly rolling sage country. Despite the latitude-straight border between Colorado and Wyoming, the border is visually distinct: In Colorado you are driving in mountains and trees, and as soon as the sign on the side of the road says "Welcome to Wonderful Wyoming!"... you are in rolling sage country... it is almost surreal. The same hold true for the borders with Idaho, Utah and Montana. It is as if despite the straight lines that make the border, Wyoming still got the shaft.
Here though is a really beautiful hidden valley, looking more like Montana or Idaho than the prototypical sage hills of Wyoming. It follows the Salt River down to where it meets the Snake flowing down from Jackson. Several small towns in the valley, the largest of which is probably only 2000 people. Very nice, and quite a surprise. This is the reason... well one of them... why I like to travel unfamiliar roads.
I see a shop selling pottery, named "The Blue Fox." Since I recently broke a nice bit of pottery that Sue bought in Montana several years back I thought I'd stop and see if I can find a replacement. We park and are immediately surrounded by barking dogs... who thankfully are all bark and no bite. After a quick petting session to get tails wagging and barking ceased, we walk up to the shop door to find it locked... at 10:30 AM on a Monday. We knock, ring the bell, etc (I figured that all the dog barking would have alerted the shopkeeper, but I know so many dog owners that are deaf to barking.) Nobody answers, so they lost an easy sale. I mean, a guilty husband is such an easy mark! I might have bought two of everything! Oh well.
Unfortunately for you, I neglected to take any pictures until I arrived at the Palisades Reservoir at the north end of the valley and left US 89. Sorry.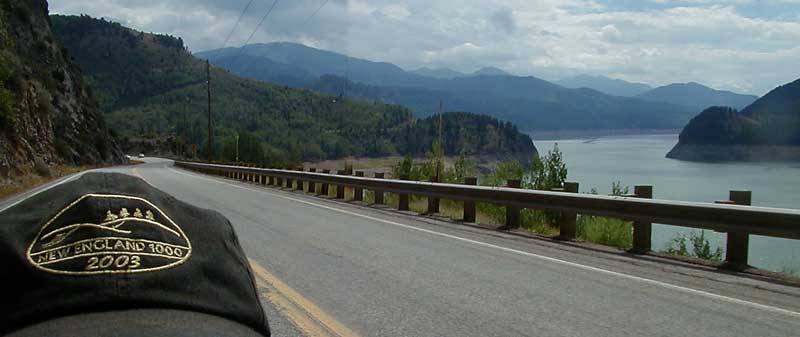 As we leave the high country on US 26 we find ourselves in this weird middle-land... not quite the usual Snake River flats of southern Idaho, and not really mountains either. The landscape is rolling country, filled with wheat and potato farms. Along the river, with it's usual small canyon cut from basalt, and up on the hilltops, are huge executive and Hollywood movie star vacation homes. Very strange.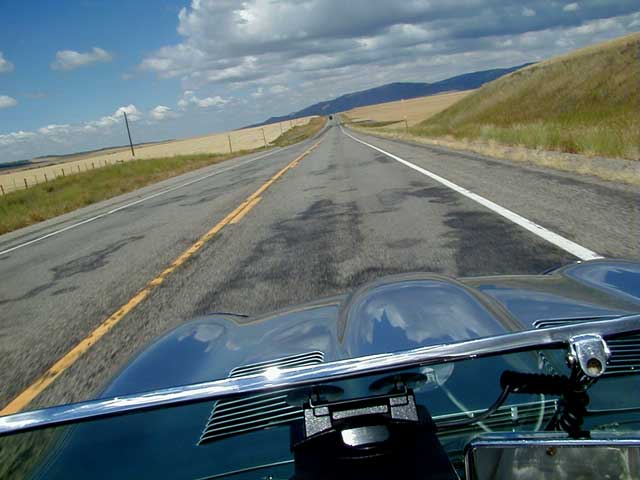 Nick is sleeping, while I am holding my arm out to provide him as much shade as possible whenever we come out from the shadow of some puffy cloud.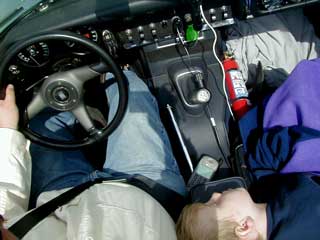 I had originally planned to bypass Idaho Falls to the north, and cross over to a short 8 mile stretch of I-15 via Rigby, Idaho. Instead I decide to swing south to grab some lunch and hopefully find some Internet access. We head down US 26 and into the city. I wander around trying to find where the Business Route of I-15 intersects my route - so I can get back out of the city when the time comes. As we are driving around I spot a burger joint. It has a 57 Chevy on the sign, with the tagline: "We're a classic, come on in!" ... the reader board says "Bikers Welcome"... can't pass *that* up! We park (no shade) and put the top up to help keep the car cool. We head in and the place looks great. Within minutes our car is surrounded by Harleys (no chance of door dings) and has gathered a crowd of admirers. The waitresses are great and do a fantastic job of animating the sleepy Nicholas. He went from tired and grumpy to the happy boy we all know and love through their magic:


Nick - from grumpy, to intrigued, to entertained. Thanks to Cedric's in Idaho Falls.
They brought him a soda concoction made with 7up, cherry and lime syrup, whipped cream, and gummi candies. Then it was a burger with "alien spuds." I had a "California burger" that was excellent. Nick demolished his lunch, so I suspect both of us gave Cedric's four stars.
After lunch I thought I'd make a few laps around the city's small downtown with MacStumbler running on my laptop... with the hope of finding a public or unsecured 802.11 wireless network. No such luck. Either my "TiBook's" notoriously lousy wireless range failed me, or Idaho Falls hasn't made it to the 21st century. While we were stopped for some pedestrians at a crosswalk, one of them, a gentleman of about late 50-something, came up and complimented us on the car and told of reading about the E-Type in Road & Track when they first came out, and always wanting one.
Foiled by lack of an Internet connection, we continued on our way, heading North on I-15 for about 23 miles. We need to stop for gas, as the stretch from the Interstate to the next sizable town (Salmon) looks pretty sparse. I figure they'll be stations at our exit, but find only a truck scale. About 14 miles down Idaho 33 in Mud Lake we find a Tesoro station and stop to fill up and check oil. While there I have at least three conversations with different people about the car. Having the bonnet up really draws a crowd.
We hang a right on Idaho 28 and head northwest. When I picked this route in the atlas I did so because I thought this road looked "interesting"... my hunch was right. The twin mountain ranges of Lemhi and the Bitterroots (the Continental Divide) run parallel with this road running up the valley between them. The landscape goes from Snake River flats to grassy rangeland, all the while with these two mountain ranges dominating each side. This is also where Lewis and Clark first crossed the Continental Divide, in 1804. They didn't find their hoped for easy river route to the Pacific, as the Salmon River is not an relaxing paddle! Today, with a handy atlas we can see what they couldn't - that the Snake and Clark Fork of the Columbia are pretty close at hand, but both lie in unintuitive directions from where they ascended the Missouri river to the area around present-day Dillon, Montana. They really wanted to go *west* and the two "easy options" were southeast and north.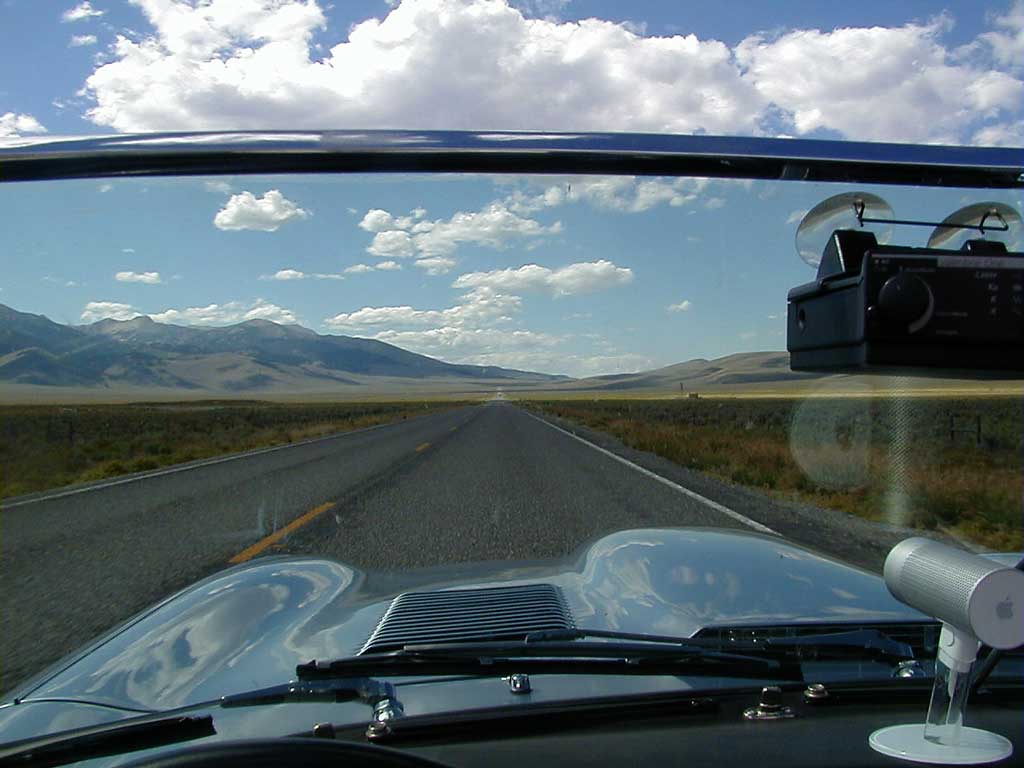 We had no such worries. Our problem was simple by comparison: we needed sunscreen. Nick had gone to put some on after lunch (a daily ritual) and discovered that we were critically low. Then I forgot to buy some when we were at the Tesoro station! We were driving up this lonely road and the map shows only three towns between our present location (skirting the NE corner of the vast Idaho National Engineering and Environmental Lab - I assume the translation is: Past Atomic Research Area, Now A Cleanup Site) and our destination, Salmon. I suspect that these "towns" are really just wide spots in the road with a few buildings, and I am proven correct. The first one does have a store and we stop. I don't find any sunscreen, but I do find some Carmex lip balm with sunscreen inside. I buy it and we apply it to lips and ears. Nick of course buys an ice cream bar. Since it is hot, I grab one too.
I was thinking that this landscape would not make an interesting time-lapse, then I found myself watching clouds and a light went off over my head. So at some point between the "INEEL" and the "town" of Leadore, I stopped at a wide spot and fired up the laptop and camera. I wanted to capture this arrow-straight road, with barely noticeable forward movement, but the left to right procession of puffy white clouds. The result is not quite in sync with that vision, but it is better than I originally thought. Enjoy.
You will note in the time-lapse that we pull over at every historical marker... this valley is full of them and I know that Nick will be learning about Lewis and Clark in school since the anniversary of their expedition is next year. I hope he'll be ahead of his class having seen some of the territory first-hand.
We arrive in Salmon, Idaho, and have to stop at several motels before we find one with a room available. We find one, and I notice the front desk has a flyer for a "cyber pub" in downtown Salmon! We unpack and I beeline for it hoping to update the website... no luck. It was closed. I figure it will be open in the morning so we head for dinner, this time a nicer restaurant, as I could use a steak.
After our nice dinner, we head back to the room and crash.
---
Something I forgot to mention is some distance specs. Day one covered 406 miles. That's 653 Kilometers for our non-US readers. Today we drove about 398 miles (640 kilometers). We started the day hoping to make Missoula, but settled for Salmon. =) I try not to make distances be the motivator... we are just sort of "wandering" with only the final destination (home) being certain. I have the whole week off work, so time isn't an issue.
---
OK, take me to the next day!