And my time went so quickly, I went lickety-splickly out to my old '55
As I pulled away slowly, feeling so holy, God knows, I was feeling alive.

Now the sun's coming up, I'm riding with Lady Luck,
Freeway cars and trucks, freeway cars and trucks, freeway cars and trucks...

--'Ol'55' - Tom Waits, from 'Closing Time' 1973
---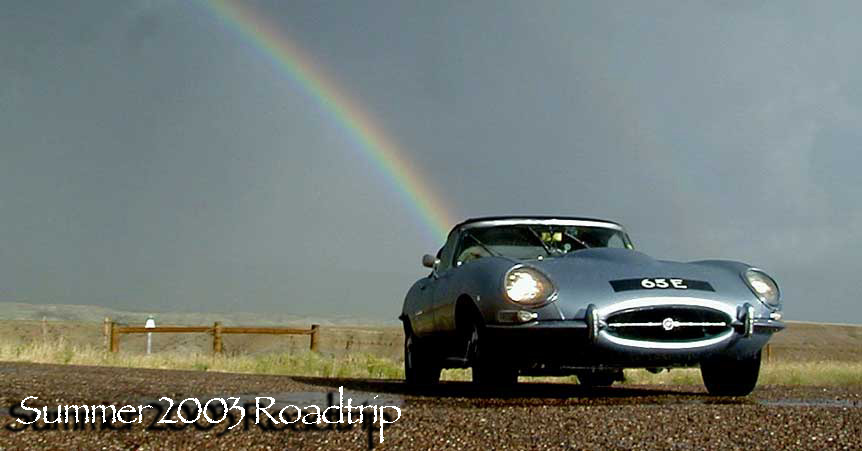 It is four AM and I am sitting in a hotel in Diamondville, Wyoming... typing up this story and knowing it won't be read for a while. There is no cell phone coverage here and the hotel desk clerk warned me that telephone charges were outrageous. No matter anyway, as the Nixon-era phone wouldn't be useful for a modem call anyway... I left my acoustic coupler behind when Reagan was in office. I'm kicking myself for not stopping at a place in Vernal, Utah that claimed "free wireless Internet access"...
Our first day was an enjoyable one, though not uneventful. We left my parent's place after a wonderful and leisurely breakfast, prepared by my Mom & my two nieces, Lauren and Caroline. Prior to that my father and I had hit Home Depot to buy a dead blow hammer... as the Jag's was missing. It is a required tool for tire changes (the car has knock-offs, not lug nuts) and it seemed to be missing from the tools. I also did some repairs to my laptop, fixing a broken USB port. Preparations, meals, repairs, and good-byes complete, nothing left to do now but drive...
We pulled out of the garage and headed west.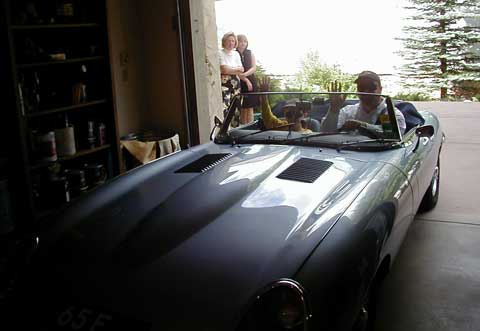 We spent the first 15 miles or so on I-70, as it is the only road in this valley... but soon left it heading north on Colorado 113. A few miles up the road we stopped to readjust our "living space" a bit and answer the call of nature. As I was buckling up Nick a stream of brand new Nissan Z cars streamed past at high speed... one of each color. They universally honked and waved, fellow sports car enthusiasts in a land of Pickups and Winnebago's. I figured it was a factory or press contingent out for a tour.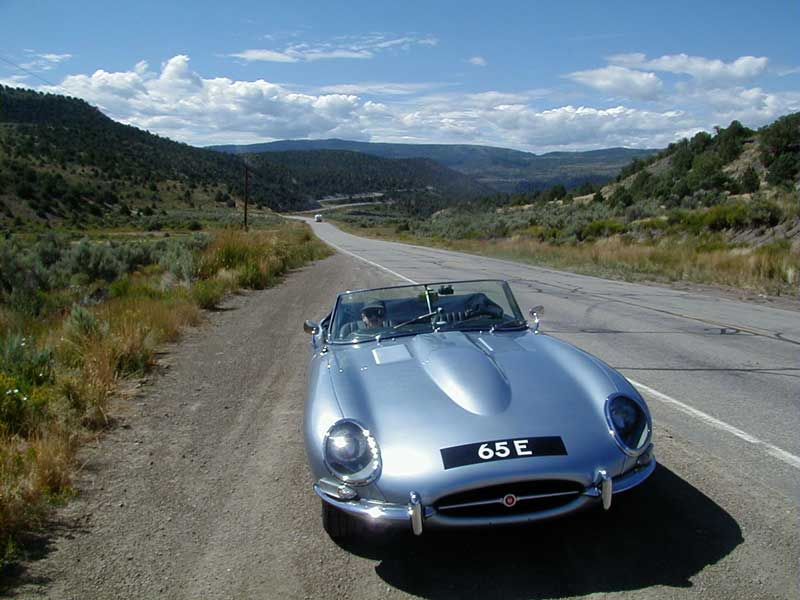 Our first stop of the day, somewhere north of Wolcott, CO.
The weather was partly cloudy, which is fine as far as I am concerned, but Nick and I slather on more sunscreen anyway. As we pull into Yampa Nick declares his need for refreshment and we stop for an ice cream bar at a Conoco station.

"mmmmmmm, ice cream" The Jaguar runs on gasoline, Nicholas runs on ice cream.
A bit further up the road is our first bit of navigation as I wish to cut out a long eastward loop (and Steamboat Springs) but the road on my atlas does not give it a number or name. We know it is in this town but just keep our eyes peeled for signs pointing to Craig or points thereabouts. Sure enough we see one and it is headed up a valley with some dark clouds and lightning flashes. Time to put the top up!
I pull off at a gravel wide spot, and erect the top of the Jag, just as I get Nick's window up the skies open up.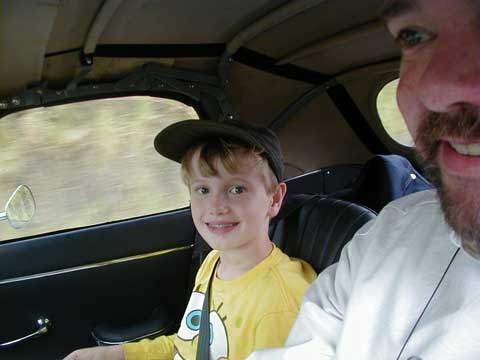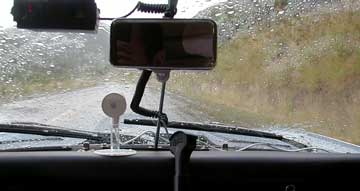 Wipers of The Finest British Manufacture.
Thankfully, the shower is of the swift mountain variety and we are clear of it within a few miles. It takes us some time to find a spot to drop the top again.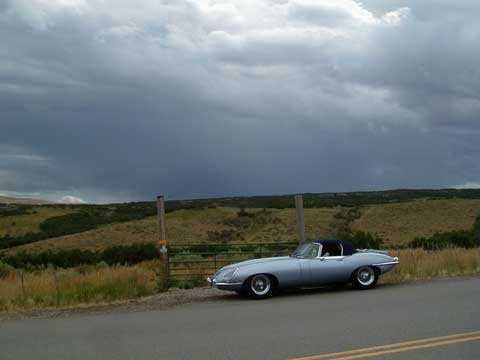 We find US 40 and head west towards Craig, where we consider stop for gas and I stop the computer, which has been making a time-lapse movie: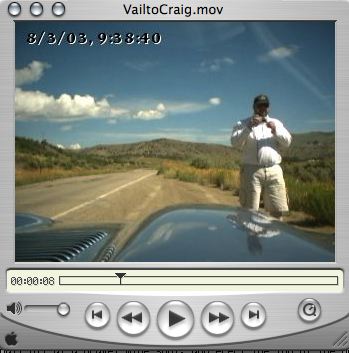 You should be able to click the picture above and open the movie in a new window. QuickTime software is probably required.
We fill up in Craig and draw a few curious onlookers, including one woman who tells Nick how lucky he his to be riding in such a cool car. The next section of road, a couple of hours worth of driving west on US 40, is pretty dull, and I have driven it a few too many times before. Rolling, dry hills... prototypical western scenery.


Nick zones out with the iPod, then finally falls asleep. The road stays mostly under the shadow of some big puffy clouds, and I just cruise along doing the speed limit, or thereabouts. I'm in no hurry and there is no rally time keeper waiting for me up ahead... a new sensation in this car.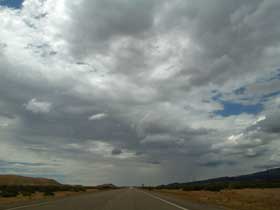 Nick naps all the way to Vernal, Utah, where we decide to stop for lunch. It is Sunday, and it seems the whole town is closed for the day. We almost give up and settle for some fast food when we spot a small cafe/ice cream shop, and stop for a bite. Nick orders a hot dog, and a chocolate malt. The waitress, who doubles as the cook, does a fabulous job and delivers a fantastic meal to the two of us. If your travels bring you to Vernal, I highly recommend "Twilagers, Ice Cream and Munch More"

"Wake up Nick, your malt is here!"
After lunch we roll north on US 191 towards Flaming Gorge. We climb higher and higher in the Uintas and the temp drops dramatically. The scenery is spectacular, as the red sandstone of Utah meets the high mountains.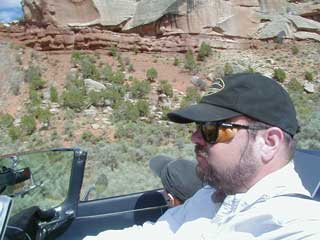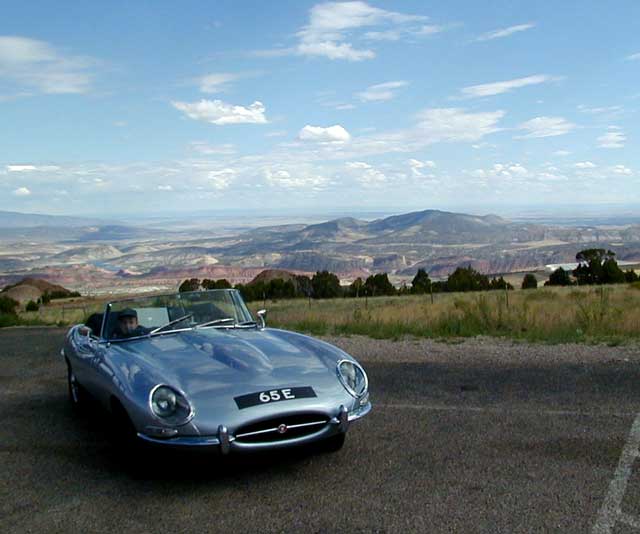 The road is great and the driving enjoyable. The only thing wrong is that the tachometer stops functioning... oh well. We twist our way up one side and own the other. On our way down we stop at a scenic overlook and stop to stretch our legs and see the view. Four bikers from California are there doing the same and we trade cameras to take pictures of our two little groups.
As we make our way down the steep winding highway I notice a minivan riding my tail... shaken from my relaxed reverie I fire up the XK and make good use of both the horses under the bonnet and the monster Wilwood racing brakes to leave the minivan far behind on this twisty stretch of highway. Once down and away from the mountains I ease back to my relaxed pace.
We hit the Wyoming border and stop, mostly to put away the laptop. (Yes, we made another time-lapse) As anyone who has driven through Wyoming will tell you, the stunning scenery is sparse... not to say that Wyoming is dull or ugly... I find the austerity of it rather beautiful... but it doesn't make great time-lapse footage. We pack the laptop away, and head on down the road. Nick doesn't find Wyoming too entertaining either, and pulls out the GameBoy for some time with Pokemon.
We are heading vaguely north-west, and I see a rather large afternoon thunderstorm tracking across our route. I am hoping that we'll slide by to the south of it but it appears that the right wing of it will sweep over us. I consult with Nick about raising our shelter and he votes yes. We stop near Burnt Fork, and put the top up once again, but this time I have the time to apply the famous aftermarket weather-stripping for British cars (aka Duct Tape).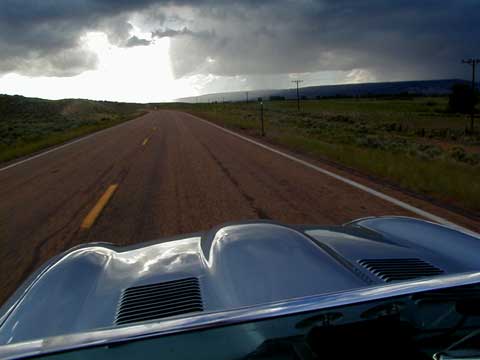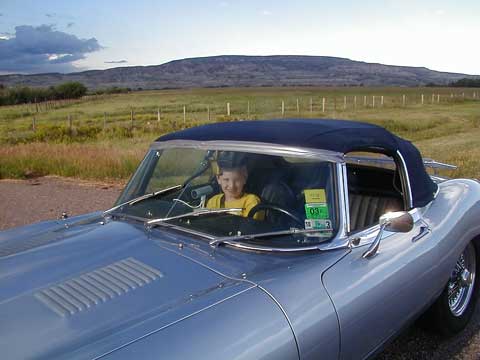 Good thing we did! The road swings due north now, right into the heart of this wild storm. The sprinkles we started with transform into a deluge... visibility is poor to non-existent and I feel my way down the road in search of somewhere to stop and safely wait out the storm. I finally find an oil-patch driveway and pull over. Nick and I are bailing water out of the cockpit. Nick has a water bottle and is catching drips...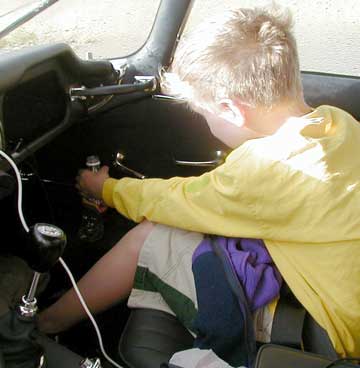 I am filling up my hat and throwing it out my window. After about 20 minutes of downpour, it moves past us and the sun returns. I hop out and grab the towels from the boot and help Nick soak up the puddles here and there. You would think that living in a rainy climate would give the Brits a motivation to build a car to handle the conditions... but no, this car leaks like a submarine with a screen door and the wipers are virtually useless. Mental note: get some rain-x soon.
The reward for our travails however is a stunning rainbow and some awesome thunder.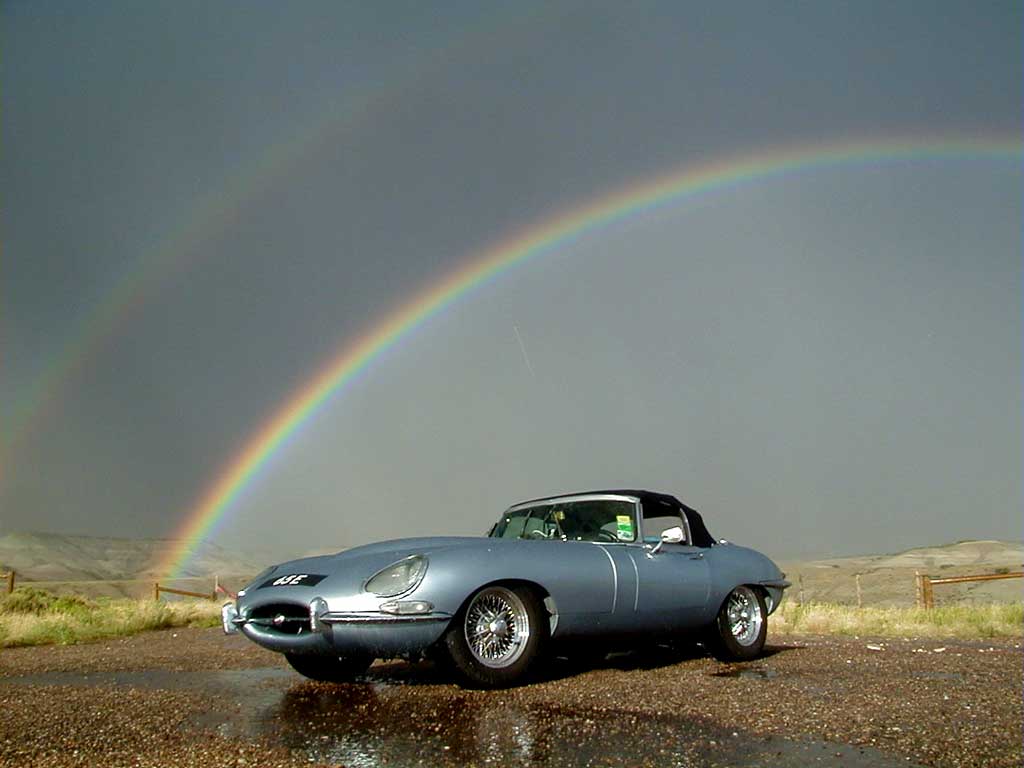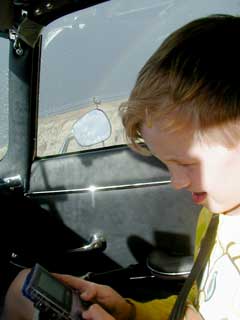 We leave the top up cruise north, finally arriving at the bustling metropolis' of Diamondville and Kremmerer, Wyoming. We fill up the car and find a hotel. There are no restaurants open, so we buy some food at the gas station and cook it in our hotel room microwave.
---
I fell asleep, exhausted while Nick watched cartoons on TV. I told him that as soon as the current show was over he had to go to sleep, and I'm sure he did. The hotel parking lot was filled with trucks, all licensed in Texas and Oklahoma, and festooned with welding gear... pipeline workers. True to form at 4 AM they all fired up their Diesels, which provided me with a handy alarm. I awoke, caught up on my writing and photo editing.

---
OK, take me to the next day!