Rally Navigator.
Pre-event . Getting there.
Sunday, May 21st:
still trying to get there.
Monday, May 22nd:
A start... & a finish?

Speed Event:
Gymkhana.
Tuesday, May 23rd:
Back in the saddle again!
Speed Event:
Thunder Road.
Wednesday, May 24th:
link
Thursday, May 25th:
link
Friday, May 26th:
going home.
Misc.
link.
Rally organizers:
Rich & Jean Taylor's
Vintage Rallies website. Color

Back in the Saddle Again!
We are truly fortunate to have Stephen Markowski & Ryan Close with us. These two guys (the official rally mecahnics)
somehow manged to wiggle the clutch hinge pin back in place. They have saved the rally for us. Words cannot express
our gratitude!
Left: Frank Filangeri's finger shows
us what broke.
The Jag is running and we're back in the saddle again. After breakfast I grab the car and join the starting queue.
The weather still looks threatening... in fact it rained quite a bit overnight. I'm dead tired as the jet lag hit me
hard lst night and I couldn't fall asleep until very late. Here, take a look at my tired face: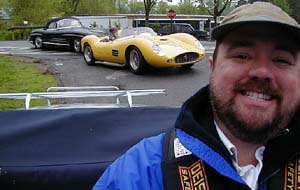 Dad wanders around forever and I end up giving up our middle spot in the queue. When dad does finally show
up the infamous yellow 300sl is in front of us again, so we let a few more cars by. =)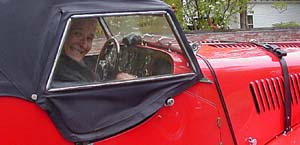 Above: Peering out the hatches... Adine Kretchmer in their Morgan.
Everyone is preparing for rain, but Dad & I opt for the macho open-topped method and just hope for the best.
I drive the first leg from Woodstock to Graniteville. We quickly jump ahead of the three or so cars stacked up
behind the yellow merc (below). The mist comes down and it starts raining lightly. I can't go too fast because
the road is wet.
Below: John Payson's AC Greyhound and the yellow 300sl (and a f150) in the mist.

Once we clear that group the rain stops, and the road opens up. We fly along at a nice average speed and gain
some ground. We make the finish at the 'Rock of Ages' quarry (where they make gravestones) in good time
and find a spot to make our run. Our time comes and we zero out. Cool.
We skip the quarry tour and head for the track "Thunder Road." We want to stay out in front for lunch and the
afternoon timed segment. We need gas so we detour into Barre to fill up. We also notice the tires look low and
top them up with some air. $1 worth of air mind you, as the 50¢ ran out before we got two tires inflated.
We were in the first group of cars at the track. Since the hill climb was cancelled, Dad wanted me to run the track.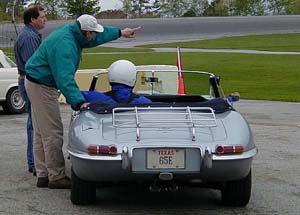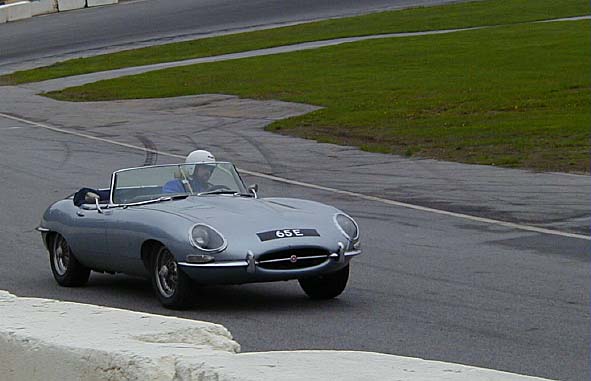 I was terrified. All I could visualize was me skidding into the wall and destroying the Jag. Especially since they have lined the track with
big freindly blocks of impact absorbing Vermont Granite! I drove pretty conservatively and turned in a so-so time. Dad took a run and
shaved about 3 seconds off my score.
I missed Keith Kretchmers run. He drives the Morgan like a wild man. Very entertaining.
I made sure to hang around and watch the Toyota 2000 GT convertible. This is a very rare car. Toyota made several coupes, but I think fewer
than 5 convertibles were made. I know at least two were used in the Bond flick "You only live twice."
Frank & Clark took their 1962 3.8 Liter E-Type out and as usual turned in a great run. Frank seems to know just where the edge of his car's
performance envelope is. He pushed it right to the edge and made a great run. There's plenty of pics on the speed event page.

Lunch was quick and good at the Hilltop cafe.
We jumped into the queue at car number three behind a Ferrari and the 240z. The Kretchmers are behind
us in their Morgan.

There was a couple of course corrections made at lunch. The first was an error in the route book. It described
a turn as 'right' when it should have read 'left.' The second was a complete reroute due to road construction.
We made appropriate entries in the course book and checked out for the two hour run to Basin Harbor on Lake
Champlain, with Dad at the wheel and me navigating.
Left: Course corrections.
This leg is a repeat of last years route to the Markowski shop (RPM) in Vergennes...
over Mad River Glen, where we barely survived the huge storm. Bailing out the leaky car and trying to
drive in zero visability. This year started looking like repeat as we made our way. The skies lowered and
we felt a few drops of rain... but then quite suddenly the sky cleared! We made our way over the notch above
Mad River Glen as fast as we could push it with the Kretchmers hot on our heels. On a straight wide road
the Jag could leave the Morgan far behind, but on a twisty mountain road, their little red 150hp antique stayed
right with us. As the navigating over the notch was pretty simple ('Stay on this road for 12 miles!') I took the
opportunity to grab about 150 photos, while hanging out the right side of the car. I was trying to get something
like the shots I took on the Cannonball, but nothing came close unfortunately. I guess it was the scale of things
out West, plus the sunshine that did it. My new camera also focusses too well and has too fast a shutter speed...
so you do not get that speed blur effect. I'll have to keep trying.
Anyway, here are the two good shots I managed to get: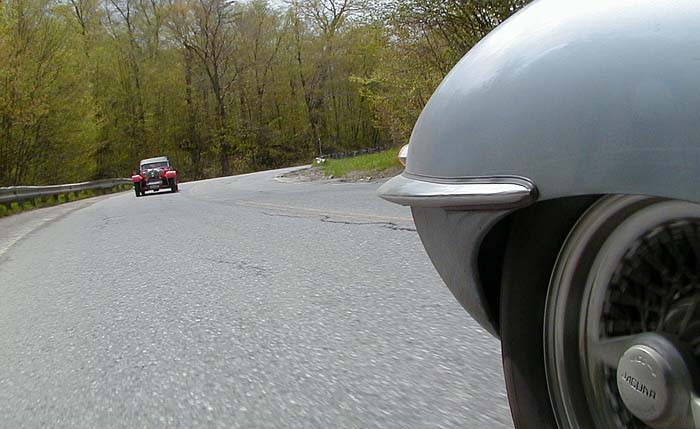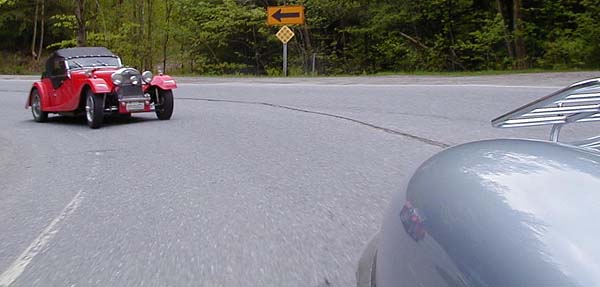 The shots looking forward just can't compete with the ones from Colorado & Utah. I'll try again in Nevada
next month.
We managed to get a bit off-route in the town of Vergennes when I read a highway sign wrong, but it just turned out to be a
short cut. Thankfully we spotted the red Morgan and were back on route in a few seconds. We made it to the checkpoint with 30
minutes to spare. I took the wheel for the final run to the finish and we zeroed again. Way Cool.
Dad heads up to Vergennes to visit RPM, the Markowski's shop, I opt to grab a nap.
I collapsed into bed to catch up on sleep until my cell phone woke me an hour later... a vendor calling me to ask a question. He didn't
know I was on vacation. Our cellular connection was bad, so I hung up and called the office to have them touch base with him. I checked in to
see how things were going and update Chris on our rally progress.
I work on the photos and pages, and now I'll upload them and head off to dinner. See you tomorrow!
Note: At dinner we were lucky to have Leon Mandel, longtime editor of AutoWeek magazine (a publication that equals a bible for this crowd!) give a short talk. Leon is driving with Norm Koglin in Norm's 1966 Ferrari 275 GTS.
Go to the Next page: Thunder Road
--chuck