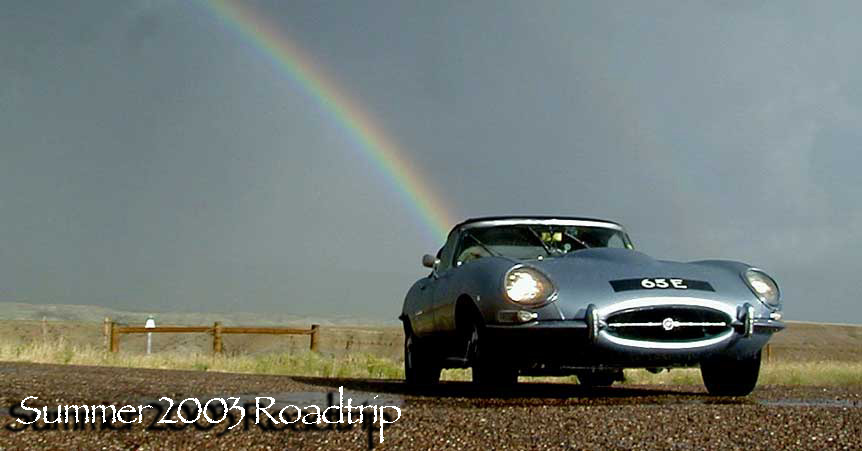 Remember those family road trips when you were a kid, or maybe more recently as a parent? I bet the predominant memories are long stretches of boring, generic Interstate driving in the crowded family station wagon ...or their modern equivalents the minivan or (shudder) the SUV. The same cookie-cutter fast food franchises at the top of every freeway off-ramp. "...are we there yet?"
Well, that won't happen this trip. I have a car to deliver to its new home, and my son Nicholas & I will be taking a little family road trip. No SUV here, just a gorgeous 1965 Jaguar E-Type, and nothing but two-lane highways, and no particular schedule to keep.
Colorado, Wyoming, Utah, Montana, Idaho, and Washington... some of the best scenery and driving to be found in the US. No Interstates, no fast food franchises. Two guys, an open car and all the West to explore!
We'll smile and wave to those poor souls, trapped in their SUVs, surrounded by unhappy people and half-eaten unhappy meals... knowing they would rather be doing it right. Road trips should be more like "Ferris Bueller's Day Off" not "Planes, Trains, & Automobiles." Come along with us and enjoy the ride.


---
If I can get Internet access, I will update these pages every night... if I can't get online, I will update them when I can. Be patient!
I will probably try and keep the web design super-simple this time, sorry no bells & whistles. Every time I do this I end up working way too hard, so this time I am going to keep it simple. Besides, I suck at HTML, so I know you don't come here to see stellar web design so much as see some scenery, an awesome car, and read a good story.
However, since I don't have the distractions of running a competitive event I may have some surprise "features" to add if all goes well. Enjoy!
---
OK, take me to the fun!

2003 Summer Roadtrip Table of Contents (in case you get lost!)

Special "Extras"... Time-lapse Movies:

You will need Apple's free QuickTime software to view these movies. You can also "option" (or alt) click them (or right click, and select download) to download them to your machine and use a media player rather than a browser to watch them. You should be able to pause, advance frame-by-frame, etc, using an external player. Enjoy!
---
If you want to while away a few hours, feel free to read some past Vintage Rally Diaries here:
The New England 1000, 1998.
The New England 1000, 1999.
The 1999 Cannonball Classic.
The New England 2000.
The 2000 La Carrera Nevada.
The 2001 Forza Amelia.
The 2002 Forza Mille.
The New England 1000, 2003.
Or, read more about this car.